Alabama Basketball: The Good and Bad from Nonconferece Play, and What We Learned
January 6, 2012
Kevin C. Cox/Getty Images
Alabama ended a rocky non-conference season on a good note, beating Georgia Tech on the road by a final score of 73-48. If Alabama's entire non-conference season had been as dominant as the performance against the Yellow Jackets, well, it's safe to say the headline would be a little different.
But, just like every other basketball team in the country, Alabama has things that it did well that need to be carried on into the Southeastern Conference play, and some things that need to be improved on if the Crimson Tide wants to make the NCAA tournament this season.
The Good
Tony Mitchell
Mitchell has been a human highlight reel for the Crimson Tide all season long, even in the three losses the Tide accumulated in non-conference play. Mitchell is ranked second on the team in points per game, first in rebounds, tied for first in blocks, first in three-point shot percentage and first in minutes played.
The stats speak for themselves, but I'll go a little further to satisfy my inner writing nerd. Mitchell's contributions go much further than the stat sheet. His electrifying jumping ability can ignite Coleman Coliseum better than anything else. You can see the change in the attitudes of the players on the court and the eagerness of the players on the bench to get in the game with Mitchell.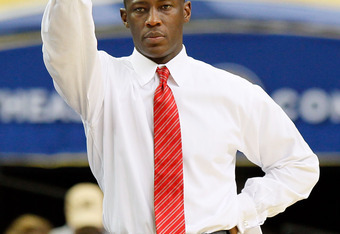 Kevin C. Cox/Getty Images
The Freshmen
We all knew the class that Anthony Grant had recruited was one of the best Alabama basketball had seen since Mark Gottfried's Elite Eight season, but each freshman has stepped into an important role on the team and has delivered when called upon.
Levi Randolph and Rodney Cooper are excellent on defense, making Anthony Grant's style of basketball even harder to beat. Trevor Lacey has shown some range shooting the basketball and the crucial ability to find a way to score without a pick or a set play, on things like a dribble-drive. Nick Jacobs has come up with some timely baskets in the lane, although he does have some developing to do.
**Note** Moussa Gueye and Retin Obasohan are not included with this recruiting class because Gueye is a sophomore in NCAA eligibility, not a freshman, and Obasohan appears to be on his way to a redshirt season.
The Puerto Rico Tip-Off Championship
The confidence the team gained after putting together such a strong performance will do wonders for the team going forward. Sure, the team's swagger may have taken a hit with the losses to Georgetown, Dayton and Kansas State. But I still see members of the team wearing their championship t-shirts on campus, so clearly the team remembers just how good they can be.
The Element of Surprise Entering SEC Play
There are still two players on the roster that will be deployed in conference play that opposing coaches don't have much of a scouting report on: Andrew Steele and Moussa Gueye. Gueye was very limited in his one appearance of the season, since he is rehabbing a torn ACL. Steele played significant minutes in 2010-2011, but his role on a team with so many new pieces is unknown, so it's almost as if opposing teams have to scout a completely different player.
The Bad
The Freshmen 
I know, I know. I sound contradictory. Let me explain. While the freshmen have had their great spots and have shown their potential, there have been times at which they've looked like, well, a bunch of freshmen. In the loss at Dayton, the freshmen were nonexistent. The defensive effort was not up to par in the loss against Georgetown either.
Scoring Consistently
Alabama has what many ESPN analysts call "spurt-ablility". The Tide has a great ability to score in bunches, especially when the fast-break offense gets going. But, when the Tide goes cold, there are six minute or longer stretches without a made basket from the field.
Joe Robbins/Getty Images
JaMychal Green's Foul Trouble Problem
Green is...how do I put this nicely? Green is....an emotional basketball player. He lets his emotions get the best of him from time to time, so when he gets called for a foul early in the game that he does not agree with, he tends to lose his cool.
That makes him commit another foul, one probably more ill-advised than the first, causing him to sit out for the rest of the first half. At this point in time, Nick Jacobs is not able to shoulder the load as Green's replacement yet. Speaking of Jacobs...
What We Learned
Nick Jacobs Could Take JaMychal Green's place...Eventually
There were times in the non-conference season when Jacobs was a force in the post, making timely baskets in back-to-back possessions on reputable defenders. But there were times in the season, like in the early part of the first half against Georgia Tech, when Jacobs could not get out of a cold streak.
If Jacobs is able to find offensive consistency, facilitators like Trevor Releford could simply pass the ball down low to Jacobs just like they do to Green, with utmost confidence that there will be either a basket or a trip to the free-throw line four out of five times.
Trevor Releford Could Be the Best PG in the SEC
Now, this claim is dependent on what you want in a point guard. If you want a scorer, someone who can create for himself better than he can for others, it's hard not to go with Erving Walker at Florida. But if you want a facilitator, someone that makes his teammates better a la Jason Kidd, Releford is your guy.
Even looking past the lob-city type of routine with Tony Mitchell, Releford is a defensive leader on the team, bringing energy and teaching the freshmen the defense in the early going. His ability to hit open outside jump shots and finish on the dribble-drive make him all the more deadly, and he should see some votes for the All-SEC team at the PG position at the end of the year.
This Year's Team is Better Than Last Year's, Meaning a Tournament Bid
Last year's team had serious issues shooting the three-point shot and converting from the free-throw line consistently, and lacked depth in the backcourt. In the perimeter shooting game, Alabama traded Charvez Davis and a timid Trevor Releford for a more confident Releford, Trevor Lacey, Levi Randolph and Rodney Cooper. Advantage: 2011-2012.
The same players that have improved (but not fixed) the Tide's outside shooting problems have also created a deep backcourt that does not miss a beat when Releford is subbed out. At the free-throw line, Releford has upped his percentage from last season, but not as much as JaMychal Green has.
Green represented the USA in the World University Games, and that experience has made him a much better free-throw shooter. The backcourt freshmen are solid from the charity stripe as well, making the Tide a tough team to mount a comeback against.
----------------------------------------------------------------------------------------------
For more in-depth coverage of Alabama athletics from Brett, go to his blog at brettatbama.wordpress.com. You can also follow his work for The Crimson White at cw.ua.edu and his Twitter work at @Brett_Hudson and at @BrettAtBama.