BCS Bowl Picks: Michigan and Offenses That Will Dominate on Huge Stage
January 3, 2012
Gregory Shamus/Getty Images
If the first two BCS bowl games have taught us anything, it's that there will be an offensive explosion from one, or both of the teams. 
It's why Michigan and these three teams will continue the trend of teams lighting up the scoreboard in their BCS bowl game.
Michigan Wolverines 
Michigan has the most dynamic player remaining in the last three BCS bowl games, quarterback Denard Robinson. 
Their 34 points per game average will lead this Wolverines team to a blow out victory over a Virginia Tech team that gave up 23 and 38 points to Clemson in both of their losses this year. 
When Robinson has gone up against tough defenses like Ohio State and Notre Dame, he was able to lead the Wolverine to victories in which they scored 35 or more points. 
Denard will go off against Virginia Tech, just like Clemson's Tajh Boyd did, when he threw for 240 yards, with 20 completions on 29 attempts and three touchdowns. While Boyd assaulted the Hokies secondary, he was able to rush for another 28 yards and a touchdown. 
West Virginia Mountaineers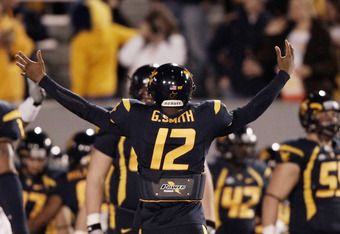 Jared Wickerham/Getty Images
West Virginia enters the Orange Bowl with the highest points per game average, 34.9 PPG. They go up against a Clemson defense that not only has allowed 26 points per game, but has also lost their three games by a combined score of 102-43. 
While Clemson has proven that they can get blown out in their losses, the Mountaineers have scored 30 or more points in eight of their 12 games. 
West Virginia's Geno Smith had a great season leading this Mountaineers offense. Smith had eight games where he threw two or more touchdown passes, while throwing for over 300 yards in seven games. 
West Virginia will put up a lot of points against Clemson in what will be a wild Orange Bowl. 
Clemson Tigers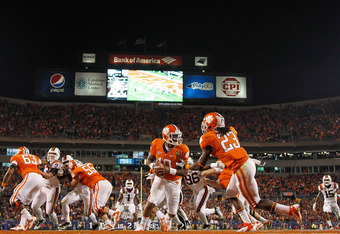 Mike Ehrmann/Getty Images
Just like Clemson, West Virginia gave up over 100 points (138) in their three losses this year. 
Clemson should have no problems in keeping up their average of 33 points per game against this Mountaineers defense. Clemson has scored over 30 points in nine of their 10 victories and have proven that against a good defense, like Virginia Tech, they can find a way to put up a large point total. 
The Orange Bowl should be the most entertaining bowl game out of the remaining three BCS games this year. 
These three BCS teams all averaged 33-34 points per game this year. They will explode for huge offensive days and will keep people on the edge of their seats when their offenses are on the field.