Peyton Manning: Colts QB Blindsided by Polian Firing Means Days Are Numbered
January 3, 2012
A. Messerschmidt/Getty Images
Former Indianapolis Colts general manager Bill Polian and quarterback Peyton Manning began a friendship and working relationship in 1998. However, after the news that Colts owner Jim Irsay relieved Polian and his son Chris from their duties, it may mean Peyton's days are coming to an end in Indianapolis. 
According to the Indy Star, after 14 years together, Peyton was surprised that Polian was let go before the two could end their careers together. 
"I was surprised, shocked, disappointed," Manning said in a telephone interview with The Indianapolis Star. "I don't want to speak for Bill, but I did meet with him and he is (shocked) as well.

"It's a sad day and it's the worst part about this business. I'm sorry that it went down this way. I always thought Bill and I might retire around the same time. You kind of hoped for that fairytale ending, after winning a Super Bowl."
Manning didn't even know that Polian was going to be let go. After the Colts players met with head coach Jim Caldwell and Polian, according to the Indy Star, Manning stuck around to talk with Polian to discuss his rehab from neck surgery. 
At some point, Polian's assistant interrupted and informed him he was being summoned to Irsay's office.

Manning to Polian: "What's that all about?"

Polian to Manning: "I have no idea. I'll let you know."

Manning had resumed his rehab work when news broke of Polian's dismissal. Shortly thereafter, the two again met.

The follow-up was decidedly more emotional.

"I just thanked him for all he's done for me and my career," Manning said. "I thanked him for the ride we've had together. He and I will continue to be in touch and have a relationship."
There are two things to take from those two quotes from Manning.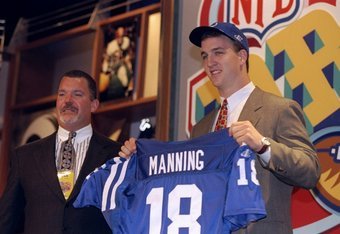 Ezra Shaw/Getty Images
One, that Irsay looks to be hitting the reset button on his Colts team. 
Irsay caught lightning in a bottle when the Colts had the first pick 14 years ago. Now, with a prospect just like Manning, Stanford quarterback Andrew Luck, it looks like Irsay is going to try to recapture this relationship with Luck and a new GM. 
Second, that Manning and Polian have a special relationship together. If Polian lands a new job somewhere in the NFL, he could recruit Manning to follow him there, if they need a quarterback. You can see above that Manning thought he would retire around the same time as Polian. 
With the new NFL collective barging agreement regulating how much rookie contracts can be, they can save money by selecting Luck while letting Manning leave for another team. 
Last year's overall No. 1 pick Cam Newton signed a rookie contract of four years, $22 million. If the Colts pass on Luck and keep Manning on their payroll with his five-year, $90 million contract that he signed back in July, they would miss out on fixing huge needs on this team. 
The Colts need help fixing a defense that ranked 25th overall in the NFL last year, while ranking 29th in defending the run. 
With the Colts obtaining the first pick in the draft, Polian's firing and Manning's contract taking up so much cap space, it looks like the Colts will go back to what worked in '98.