Winter Classic 2012: Why January Showdown Beats Stanley Cup Finals
January 2, 2012
Bruce Bennett/Getty Images
Two of the best events that the NHL puts on every year are the Winter Classic, and the best of seven-series Stanley Cup Finals. However, as great as the finals can be, the one-game Winter Classic is the better event because of the national attention that surrounds it. 
Now, before you puckheads go and chop my head off for suggesting such a thing, just think about this. 
With the Winter Classic, two fan bases get half a year, from the summer until the game in January, to build anticipation. With the Stanley Cup Finals, you get maybe a couple of days to get excited for the start of the series. 
Plus, with the Winter Classic you know if your team is going to be playing in it. Once the announcement is made in the summer, you do not have to worry about your team falling short in the Stanley Cup Playoffs if they happen to run into a hot goalie. 
From a technical standard, the Winter Classic has 30 different cameras to help fans see different angles that they've never seen before. However, with the Stanley Cup Finals you are limited to only what NBC can fit into an arena. 
But the icing on the Winter Classic cake is that the event can bring its host city a revenue stream unlike anything the finals could do. 
According to Boston.com, during their Stanley Cup run last year the city was able to generate $5 million in extra revenue per game.
But the economic impact of the Stanley Cup games extends far beyond the immediate vicinity of Causeway Street, tourism officials say. Each Cup game played here will generate about $5 million in revenue citywide, said Patrick Moscaritolo, chief executive of the Greater Boston Convention & Visitors Bureau.
That is great for the city of Boston. The Bruins did a phenomenal job bringing the city its first Stanley Cup championship since 1972.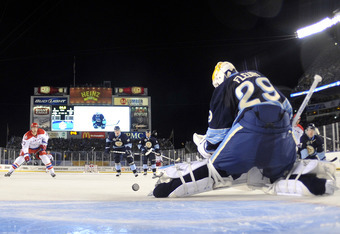 Jamie Sabau/Getty Images
However, when Pittsburgh hosted the Winter Classic last year, the game brought an additional $22 million in revenue. Because the Winter Classic was over a weekend, it gave the city time to offer multiple events for tourist to see the city of Pittsburgh. 
The Winter Classic may not bring a championship to the winner of the game, like the winner of the Stanley Cup Finals. However, winning the Winter Classic does bring bragging rights that get to last for an entire year. 
And on a huge stage like that, winning the game for a team's fan base that hasn't won a Stanley Cup in a while, or ever, feels like the next best thing.