Dwight Howard Trade Rumors: Los Angeles Lakers Are Not a Lock to Land the Star
January 2, 2012
Mike Ehrmann/Getty Images
It seems to me that a lot of NBA fans assume that it is a foregone conclusion that the Lakers are a lock to land Dwight Howard. What baffles me even more is that many believe the Lakers can get the deal done without having to part with both Pau Gasol and Andrew Bynum. Well sorry guys, this is just not the case.
First and foremost, trading both Bynum and Pau, who when healthy combine to make up one of—if not the best—frontcourts in the NBA for one player, be it Dwight Howard or not, makes absolutely no sense for the Lakers. 
This being the case, there are quite a few fans out there that think the Lakers brass could still—and are pretty much a lock—to bring Howard to tinsel town by offering a package centered around Bynum or Pau—most likely Bynum—a consolation player, such as Devin Ebanks, Matt Barnes, Ron Artest (basically any other player on the roster aside from Kobe Bryant) and the late first-round pick they got from Dallas in exchange for Lamar Odom, which is not completely useless considering the deep talent pool in this year's draft. Nevertheless, they could get a much higher pick from someone else, so this is certainly a weak trade chip to bring to the table in terms of draft picks.
Don't get me wrong, I am not trying to say that this trade is highly unlikely.  The point I am trying to make is that it is a huge mistake to say that this trade is a foregone conclusion, and it is going to happen no matter what, because this is far from the truth. 
First and foremost, for that trade to happen the Lakers would have to take on the monster contract of Hedo Turkoglu and it would have to remain completely under the radar.  Why must they keep it on the "down low" you ask?  Because if, sorry let me rephrase that, when other teams around the league catch wind that Orlando is willing to accept Andrew Bynum, a consolation player—let's just say Devin Ebanks for name's sake—and a late first-round pick for their franchise player—who also happens to be the best center in the league and if you ask me, should have been the MVP last season—what do you think they are going to do?
They're going to say "Oh wow, we can definitely compete with that offer" while removing their metaphorical chapeau and throwing it into the metaphorical ring.  And I mean come on, why wouldn't they?  Other teams could easily top that and do you really think Orlando is going to appease Howard by making sure he goes to one of the three teams on his list? 
Yes, I'll admit Howard does have some sway here because if he refuses to sign an extension with the team he would be traded to they will likely have their doubts. Nevertheless, it would not necessarily guarantee they don't make the deal. Just look at New Jersey—they took a chance on Deron Williams.  Honestly I can think of a handful of teams not on Howard's list—which consisted of New Jersey, Los Angeles (Lakers) and Dallas—that could make an offer following the same structure as this Los Angeles deal—meaning 1. A star player, 2. A secondary player and 3. A first-round draft pick for Dwight Howard and Hedo Turkoglu—that the Orlando Magic and Dwight Howard could not refuse!  As a matter of fact, I'll name a couple right now and explain why they work for both Orlando and D12.
Keep in mind, these are just possible trades that I came up with off the top of my head. They are not related to any rumors and they are not teams that were on Howard's list, save maybe one, as you will see.  Therefore, I am not claiming that they are likely to happen. I am simply saying that come the trade deadline, if the Lakers offer Bynum, a consolation player and Dallas' late first-round pick, here are some teams that could step up to the plate, compete with and possibly beat the Lakers' offer.
Golden State: Monta Ellis plus David Lee or Ekpe Udoh plus a pick.
Why it works: Howard would get to play with a star point guard for the first time in his career, he gets to go to California (since he apparently wants to play somewhere warm) and Orlando gets both a star guard and a very capable big man, albeit not a center (however, they could opt for Andris Biedrins instead), which allows them to stay competitive, especially if Golden State takes on Hedo's contract.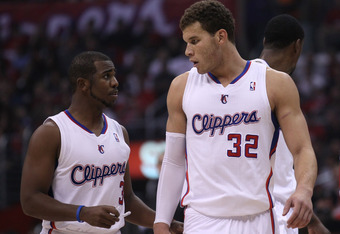 Stephen Dunn/Getty Images
Chicago Bulls: 1. Joakim Noah or Carlos Boozer plus Luol Deng plus a pick.  OR  2. Joakim Noah or Carlos Boozer plus Omer Asik or Taj Gibson plus a pick (only for Howard, Hedo not included).
Why it works:  The first trade would most likely be the one that Orlando would want, which is unfortunate for the Bulls because they would be far better off with Deng instead of Hedo. Nevertheless, I do not see this being a deal breaker for the Bulls.  Orlando would get a very capable big man and small forward and remain a contender.  Meanwhile, Chicago gets the duo of D-Rose and D12—who coincidentally are two of the top "D-fenders" at their positions, which would certainly go over well with Tom Thibodeau—and in the best case scenario they get to keep long their long time SF, Luol Deng.
Los Angeles Clippers: 1. Deandre Jordan plus Caron Butler plus future pick (without Hedo) OR 2. Deandre Jordan plus Caron Butler plus Mo Williams (with Hedo).
Why this works:  Could you imagine a "big three" consisting of Chris Paul, Dwight Howard and Blake Griffin?  Need I say more?  As for Orlando, they get a very decent young center that is still developing and could become a star if Orlando chooses to build around him.  They also get an upgrade at SF, both in cost and although both Hedo and Caron are mainly scorers, I'd much prefer Butler.  Finally, they'd add Mo Williams to an already pretty crowded backcourt. Nevertheless, they have some good depth at the 1, even though neither Nelson nor Williams are elite PGs, they are both good enough to start.
Final Thoughts:
What I want you to take away from this article is that the only way a trade that would bring Howard to the Lakers would become a foregone conclusion is if the Lakers confirmed that they would offer Bynum and Pau for Howard and take on Hedo's monster contract...which they will not because that trade makes absolutely no sense for the Lakers.  And as I just mentioned, Orlando can and will explore other offers, of which there should be many, if all they have to compete with is Andrew Bynum plus a secondary player plus Dallas' pick for Dwight Howard and Hedo Turkoglu. 
Don't be fooled... Orlando is far more interested in getting a good return on Howard than they are with pleasing him by trading him to one of the three teams he suggested.  Furthermore, as New Jersey did with Deron Williams and the Clippers technically just did with Chris Paul—since all they have from him is a verbal agreement that he'll stick around for two years—teams will likely be willing to take the risk and pull the trigger on a deal for Dwight Howard even if he doesn't sign an extension right away.
Business is Business, that's all there is to it!