WWE Raw Preview: What You Should Expect from the First Show of the Year
January 2, 2012
Hello Bleacher Reporters.
In the midst of a plethora of articles dreaming of a Brock Lesnar return, allow me to bring attention back to the fact that tomorrow is the first Raw of 2012.
If the WWE and the Creative Team play their cards right, it should be a memorable Raw at that.
Let's first begin with the division that numerous fans love to hate and wish to improve:The Divas division.
I expect Beth Phoenix to be in attendance on January 2nd. Phoenix was notably absent from last week, due to a very noticeable bruise at the hands of a botch Alicia Fox Scissors kick.
Some claim that the WWE tries to use Phoenix at more opportunistic times instead of overexposing her in a division that needs revamping, I expect the Divas champion to make her presence known tomorrow, no matter how little time she may be afforded.
She will probably squash the defunct push of Fox for good.
But the big question is, could we see a return of Layla as well? According to Wrestling Observer Newsletter (h/t sescoops.com), "Layla is slated to enter the Divas Championship picture upon her return from injury due to the feeling that Beth Phoenix's feud with Kelly Kelly and Eve Torres has worn out. Natalya is also expected to vy for the title in 2012."

From Divas to bros, we now turn our attention to Zack Ryder.
Wrestling Observer Newsletter (h/t Wrestling Inc.) says the current United States champion is undergoing a de-push of sorts due to declining ratings. Others speculate he may still be on the rise.
I believe that the rumors of de-push should be taken as a grain of salt. In addition, I actually believe that a future storyline with Eve will be a good deal, since it means more time for a well-deserved and improved wrestler in Eve.
Last week, we got something new in a mixed tag team match between the two against Natalya and Tyson kid. We should see this trend continue tomorrow.
Ryder  is still getting his ring and attention time while finally shedding some of the spotlight on Eve, who has improved immensely in the ring and may finally step away from Kelly Kelly's shadow.
If WWE plays their cards right, Zack Ryder can undergo a steady progression of more character and persona development, while still remaining relevant. Eve can emerge as one of the top faces in the Divas division.
Now let's move on to a feud that has been a lightening rod of sorts: The battle of hatred between John Cena and Kane.
Kane last week explained his true intentions in his constant attacking of the Cenation leader. He has vowed to train Cena to embrace the hate instead of rising above it.
While too many articles on this site have automatically signaled this as the immediate heel turn for Cena, I say not so fast. To turn Cena heel right after this promo on an episode of Raw would scream Vince Russo logic.
Instead, I expect Cena to still resist giving into the hate and Kane's mind games. I expect another promo of Cena saying that he knows all about his detractors and how it is his fans that he will always be loyal to.
Cena is too strong-willed to give into Kane's tactics so easily.
What will be interesting to see, though, is Kane's response to Cena's stubbornness. Can Kane kick his Hatred Bootcamp strategies to another level?
Last but not least, we move on to the current WWE champion and the center of the WWE Universe, CM Punk.
Tomorrow night we will witness CM Punk face off against Dolph Ziggler for the WWE Championship.
After losing his United States Championship, many predict a huge title reign and push is near for Ziggler.
However, I would strongly caution against this. We are already seeing the repercussions of pushing a rising star too much too soon with Albert Del Rio. Del Rio is now out with an injury and many inside outside of the WWE hope that when he returns he can gain some of his momentum back.
Ziggler fans should be hoping WWE doesn't make the same mistake with their favorite as they did with Del Rio.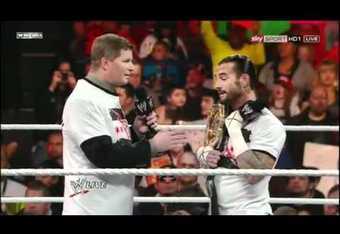 CM Punk has been another hot topic in the discussion involving low ratings lately. Numerous fans such as myself question whether or not his rivalry with Intern GM John Laurinaitis is doing enough in order to sway fans into the program.
Hopefully tomorrow night, there will be a new element added into the mix of the feud between Punk and authority. I don't believe in giving up on Punk just yet—seeing how ratings have been declining for over a year and it didn't just start with Punk.
I also expect Laurinaitis to make his presence felt in the WWE title match tomorrow—similar to what he did last week in the Gauntlet Match.
Overall, if the cards are played extremely well, WWE can get a head start in regaining the interest of fans by building a more consistent and quality show. If they don't, then they can start kissing goodbye to interest in the Royal Rumble and also in their venture of having their own network. 
Thank you for reading!  Comment, like, retweet. Anything would be appreciated in order to spread the word on this article!
Follow me @ItsSocrates
Also check out my other articles in my profile! If you are an old or new wrestling fan, definitely check out my series analyzing the WWE after the Attitude Era.