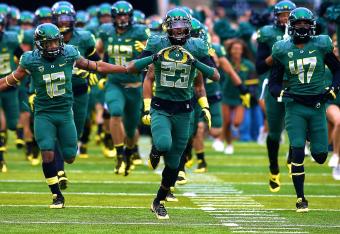 Now is not the time to panic, at least not yet. If things look this way one week from now, however, it might be time to gather your things, sound the alarm and slowly drift toward the exits.
A familiar scenario is gaining steam. There are two spots to fill in the last BCS National Championship, and there are—at the moment—more than two undefeated teams warranting consideration for a spot in this final showcase.
History tells us that the losses will come. It tells us things will eventually sort themselves out, just like they always do—just like they did in 2012.
But what if they don't? What if, after being pelted with rotten vegetables and expletives for more than a decade, the BCS decides to drop the mic on the way out and deliver three (or more) undefeated teams on its way out the door?