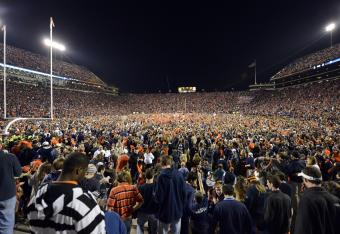 RVR Photos-USA TODAY Sports
I can't tell you exactly what happened or how it happened, because I'm not sure I'll be able to process it without ample time to digest. Even then it might not help.
But I do know that the 2013 Iron Bowl is one of the most incredible football game I've had the pleasure of watching, and the ending between Alabama and Auburn will live on for eternity.
It wasn't a perfect game. In fact, there were plenty of questionable moments, decisions that will be dissected and mistakes for each team. In a lot of ways, however, that's what makes it perfect.
College football is not supposed to go as planned, and rarely does a brilliant game come delivered in one finely packaged product. The imperfections are a breakaway from the blueprint, a defined path that separates it from anything else you've ever seen.