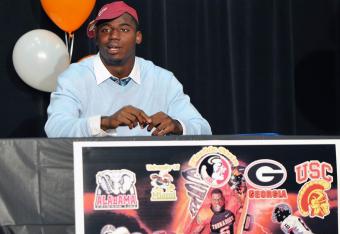 Steve Mitchell-USA TODAY Sports
As angry fans and bitter media members spend time opining about the out-of-control nature of high school recruits, another story comes up that reminds us these big-time athletes are still just kids. Matthew Thomas, a 2013 Florida State signee, is now trying to get out of his letter of intent and released from his scholarship, so he can go elsewhere. As Thomas told the Miami Herald:
Thomas' story has not changed; he was iffy about signing with the Seminoles and, after trying to come around on the idea, his heart still is not in Tallahassee. If there is a finger to be pointed, it should not be aimed at the attention-starved athletes, as so many fans and media claim. No, the issue is the same one we've seen play out with other athletes: the parents.
In the two most recent signing periods, four of the sport's most high-profile recruits have had their decisions impacted in a big way by their parental figures. Josh Harvey-Clemons and Alex Collins both ended up at their schools of choice, Georgia and Arkansas, respectively, but not without having to fight for that right.
Meanwhile, Gunner Kiel and Matthew Thomas did not get to sign where they truly wanted. Kiel, who is now at Cincinnati, spent a season close to home at Notre Dame, where his mom wanted him. Now, after a year spent in a situation not to his liking, Kiel is on to another school hoping things get better after sitting out another season.