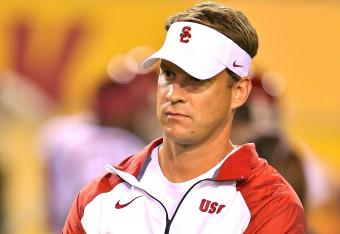 It should not take long for Lane Kiffin to return to the football world, likely as an offensive coordinator. Kiffin, after being fired following USC's 62-41 loss to Arizona State, appeared on the set of ESPN's College GameDay, giving Chris Fowler the exclusive first interview. Kiffin was measured, calm and—as USA Today's Erick Smith pointed out—solid in putting a good face on his current situation.
In the ESPN interview, Kiffin accepted responsibility for the failures of USC and showed that he missed that team he helped build. While some speculate about Kiffin moving to the television world—Fox Sports, CBS Sports, NBC Sports and ESPN all are looking for the next big personality—the fact is that Lane Kiffin is a football coach.
There are two things that Kiffin truly enjoys: coaching ball and recruiting talent. Neither of those can be done while sitting in a suit behind a desk talking about other people's teams.
For that reason, expect to see the 38-year-old on the sidelines or up in the coaches' box when the 2014 season kicks off.