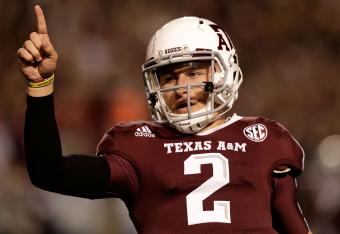 Scott Halleran/Getty Images
Brent Zwerneman of the Houston Chronicle reported that Johnny Manziel shoved a graduate assistant coach at practice this weekend, and as expected, the story exploded. Despite Zwerneman's attempt to calm the situation, terming it as a heat-of-the-moment ordeal, people let the story build into more.
As Spencer Hall over at Every Day Should Be Saturday satirized:
If you read the tweets and follow the story down the rabbit hole many folks want to take it, that is exactly how it feels. The great Johnny Manziel stabbed a grad assistant with a trident! That kid needs to check his ego at the door!
Let's take a step back. This is not a coach and a player fighting. It is not a reverse Woody Hayes situation, where the player is assaulting a coach. This is not Percy Harvin putting hands on Billy Gonzalez, choking him and slamming him to the ground, allegedly.