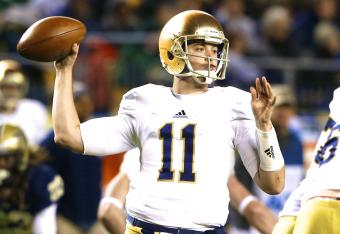 Tommy Rees has been fantastic through much of the 2013 season. In fact, Rees is the primary reason the Irish were still in contention for a BCS bowl game in 2013—albeit one with only a small glimmer of hope.
But against Pittsburgh on Saturday night, Tommy Rees looked like the Tommy Rees of old, the one who turns Brian Kelly's face into a Crayola crayon buffet and opposing defensive backs into All-Americans. A few brutal throws prompted a trip down bad-memory lane.
With Pittsburgh's 28-21 win, the small glimmer of hope is no more. Notre Dame's third loss of the year quiets the talk of a BCS bowl appearance, and the Panthers did what they were close to doing in 2012.
This time, they finished the job.