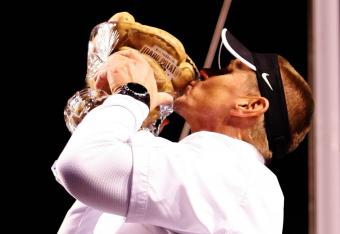 Brian Losness-USA TODAY Sports
Reports are coming out that Wisconsin has moved to hire Utah State's Gary Andersen as their next head coach. As Madison.com reported, the Aggies coach was a done deal Tuesday evening—Andersen is Wisconsin bound.
Andersen is a good hire, one of the better candidates out there on the market for a school like Wisconsin to grab. Personally, I'm a huge fan of his work on the defensive side of the ball, and given schools pushing to hire offensive firepower, it is nice to see a squad go the defensive route.
However, Andersen in Madison is going to be an interesting experiment to watch. He's not part of the Bucky family, and at Wisconsin—a very unique job—that is one of the aspects that will play an interesting role going forward.
Full disclosure: Ordinarily I hate "family" hires. The link to the school often creates some odd dynamic where fans feel they are owed some increased loyalty from a guy who is just there to do a job. The coach is also under increased pressure as his alma mater, or the school he's worked at for a decade, is counting on him for success.