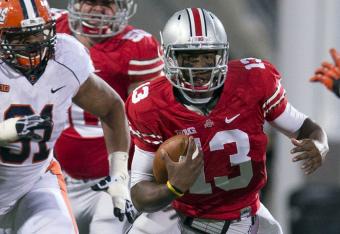 Greg Bartram-USA TODAY Sports
Thanks to Kenny Guiton, a fifth-year senior, Ohio State's offense remained in good hands on Saturday following Braxton Miller going down with an MCL sprain, as reported by ESPN's Shannon Spake. The quarterback proved, yet again, that the Buckeyes have the luxury of possessing two quarterbacks capable of running the show.
Ohio State is going to be careful with Braxton Miller, the Heisman-candidate quarterback, and that meant an entire game with Guiton instead of Miller returning with a brace to give it a go against San Diego State. A smart safety precaution for the Buckeyes, a team with national title hopes, and one that ultimately did not cost them much in the way of production.
Guiton went 19-of-28 for 152 yards and added another 83 yards on the ground as Urban Meyer's team ran up 42 points and 445 yards of total offense. Unlike most teams that see a drop-off when the backup enters the game, Ohio State remained prosperous, thanks to its unique position.
Kenny Guiton is not your average backup quarterback. He's not an underclassman low on experience; the fifth-year player has played in some big spots during his career. He's not a limited football player; the former 3-star recruit out of Texas, per Rivals.com, just happens to be on the same roster as the super talented Braxton Miller. He's not a quarterback that does not know what to do; his grasp of the offense is superb.