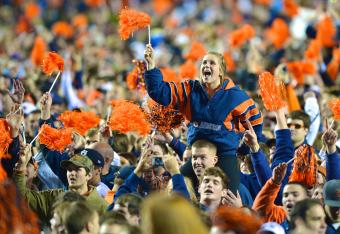 USA Today
You put in a lot of time at the tailgate, on the couch and in the comment section. Countless hours are spent engulfed in the greatest sport on earth—college football, of course—hoping that the weekly hype will somehow match the results.
If we're being honest, it rarely does. But Week 14 was a glaring exception. Week 14 was the game's symphony.
From start to finish, it delivered. Chaos arrived in many ways, rivalries were decided in the final seconds—some beyond—and this past Saturday will go down as one of the greatest regular-season days of all time.
Of course, it began well before Saturday. It started with Northern Illinois quarterback—and Heisman contender, whether you like it or not—Jordan Lynch running for 321 yards against Western Michigan on Tuesday night.