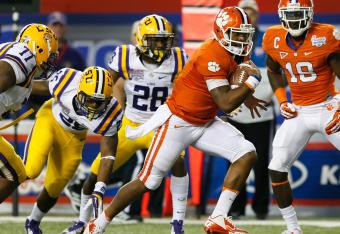 Kevin C. Cox/Getty Images
It's Thursday and we are doing the mailbag this afternoon instead of the usual morning run. Figured why not open it up to a new crop of folks? No need to stall, we'll just get into the mailbag here.
I think the Aggies have a shot to win the SEC, but no, I wouldn't call them co-favorites. Their defense is going to have to improve drastically, and that is without their best player, Damontre Moore. On offense, losing Luke Joeckel and Ryan Swope is a hit, but they have Johnny Football back in the fold.
They will be close, but I think Alabama will be the favorite in 2013.
Give me Clemson. The Atlantic Division should come down to the Tigers and Seminoles and I'll give Clemson the upper hand because it gets FSU in Tigertown and returns some big pieces.