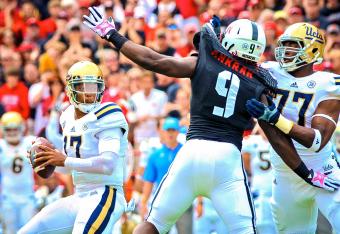 Jim Mora was nearly in tears before the game even began. The UCLA head coach had an unmistakable twinge in his voice, and the right words were hard to come by as he searched for the appropriate terms to describe his team's mind-set. He discussed it openly, wearing his emotions on his sleeve.
Given the circumstances, it was understood if not expected.
When asked about the task of playing the first game following the tragic death of freshman wide receiver Nick Pasquale, who was hit by a car and killed last week, Mora provided little in terms of on-field answers.
The game itself seemed secondary. In fact, it was secondary, but it still needed to be played.