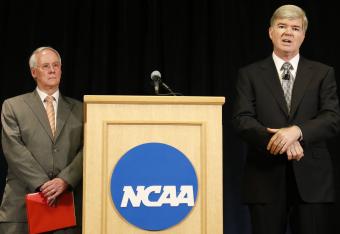 Joe Robbins/Getty Images
With the revelation of the Miami news and the extent of the mismanagement, folks from all over are calling for Mark Emmert's head and for the NCAA to step off from Coral Gables. Our own Adam Kramer wrote about the Emmert problem here at Your Best 11. Dana O'Neill, from ESPN.com, did the same as she pointed out how Emmert's response to the problem was eerily similar to coaches saying they knew nothing of the improprieties.
Clearly, people are hoping to see Emmert go down. But, for some, just the NCAA President going down is not enough. They want more blood following the latest of the missteps from the gang in Indianapolis. They want to see the foundation of the NCAA crumble.
That means a push to disband the NCAA, or for the bigger schools to push themselves back from the crushing grips of arbitrary amateurism and do their own thing. John Infante, from The Bylaw Blog, talks about how the federal government could cut out the NCAA in an effort to beef up enforcement.
However, that's not the what folks are truly dreaming about. No, people are looking for a more Wild Wild West approach to the elite level of collegiate sports.