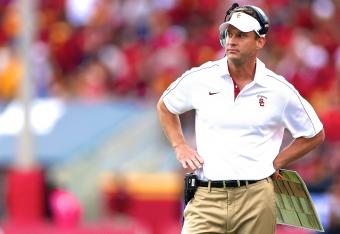 There's a storm coming comin' in. And this storm will be awash with faulty message board rumors, press conferences, press releases, denials, moving trucks and more money than we could possibly imagine. Although the offseason is still in the distance—and thank goodness for that—the momentum is building.
Lane Kiffin is out at USC, and Mack Brown's fate at Texas is all but sealed with new leadership on the horizon. Two of college football's most desirable institutions will soon be in the market for new coaches. One is a certainty, the other just a matter of time.
The impact on both schools will be the story of the college football offseason, but it won't be the only story. Other universities pondering similar changes in leadership will do so knowing that 2013 will not present the most optimal conditions to go head-coach hunting.
At the very least, the frenzy is beginning to build and the pecking order is taking shape. And if a team beyond the big two wants first crack at the head coaching free-agent wire, then it might be best to wait one more year.