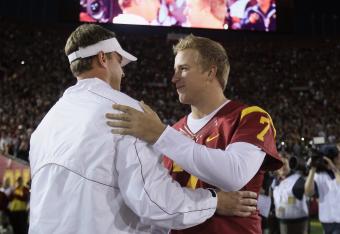 Jeff Gross/Getty Images
Yesterday, the college football world got a chance to do one of their most favorite things—point the finger and pile onto Lane Kiffin. His comments defending Matt Barkley over at ESPN LA sparked a fire about how he refuses to take the blame and causes controversy every time he speaks.
Everybody stop.
Did you all watch the University of Southern California play football this year? Did you see a different ballclub than the one I saw?
I ask because if you watched the Trojans that I saw on a week-in, week-out basis during the 2012 season, I'm not sure how you can say that Lane Kiffin is wrong in his defense of Matt Barkley. If Barkley had the elite defenses that Matt Leinart and Carson Palmer had in their Heisman-winning seasons, then odds are Matt Barkley is a legitimate candidate to be at the ceremony in New York City.
It's likely, following his monster season, that Johnny Football still takes home the hardware, but the point remains that if Barkley's defense could have shown up to get stops, he would have had a shot at the Heisman.