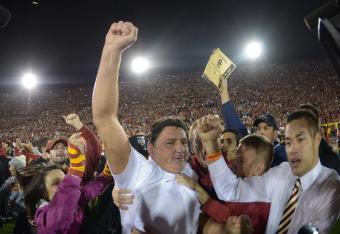 Kirby Lee-USA TODAY Sports
Ed Orgeron is no longer just a good story, a boisterous personality wining and dining his team with chicken, waffles and smiles. We're past that.
He's now a semifinalist for the Maxwell Football Club Collegiate Coach of the Year Award, the first interim coach to ever be recognized this deep in the process.
The fun, expectation-less honeymoon phase has given way for success—both on and off the field. And with that, USC athletic director Pat Haden suddenly has a difficult decision to make with sand tumbling down the hourglass. Quite frankly, it's only difficult if he makes it so.
Less than 48 hours after Orgeron led the USC marching band in song following a victory over Stanford—Tommy Trojan's sword in hand and hopefully no unfortunate band member within reach—USC picked up the commitment of a 4-star lineman.