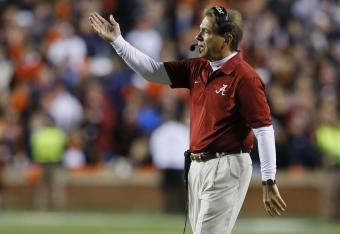 Kevin C. Cox/Getty Images
Alabama did not lose to Auburn because of a couple of poor coaching decisions. Well, at least not what the masses have deemed to be poor decisions. The Crimson Tide lost because they failed to execute, and if coaching is to come into question, it should be based on choices made much earlier in the game, not the two late decisions people have latched on to for dear life.
Joe Posnanski at NBC Sports talks about it in his column, and he is far from the only person to do so. The collective world of college football observers are lining up to take a shot a Nick Saban's game management to end the Iron Bowl. Starting with the failed decision to go for it on fourth down and carrying through to the field-goal attempt with just one second to go before overtime.
Two situations where the outcome is coloring the discussion. Two situations where, if things went as Saban planned, as Alabama had rehearsed, no one would be questioning him as the best coach in the game. Two situations where, in the grand scheme of things, players did not do what they were supposed to do to make winning happen.
Saban was not rolling the dice when he made his decisions. He was looking at what he spent time working on in practice, what his team has done all year, and made a measured choice, as Bleacher Report's Marc Torrence quoted Saban stating after the game.