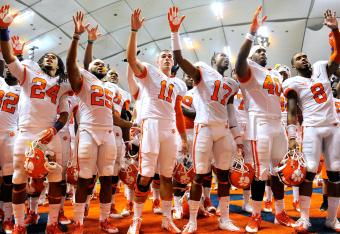 The term "Clemsoning" is dying. It is moving toward a slow, fortunate death, and it took another step closer to its grave on Saturday in upstate New York.
As defined by the always respected Urban Dictionary—and originally coined by the magnificent The Solid Verbal podcast—Clemsoning takes on the following definitions:
There's a reason this term exists. In past years, the Tigers have fallen on their faces in games and situations where they should not have stumbled. They're not alone in this exercise, of course, but the moments are pronounced, and the narrative is well documented.
Clemson's road game at Syracuse felt like one of those moments in the making: a game where the Tigers could be looking ahead and where a strange, indoor environment—the same building that got a solid Louisville team a season ago—could make a relatively lopsided contest somehow competitive.