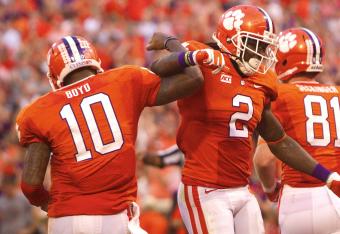 Turn off the sirens, silence the alarms and don't overanalyze the close call. Save it for another team and another week. This wasn't the game that was supposed to derail Clemson's BCS National Championship hopes, and it didn't.
There will be plenty of time to reassess this next weekend, if and when it's necessary. At the very least, we're about to learn even more about the Tigers.
For a while, however, even well into the second half, Boston College felt like a live underdog. In fact, the Eagles took a lead into the fourth quarter.
But the Tigers did enough on both sides of the ball—a trend that is starting to receive the attention it deserves—to come away with a 24-14 home victory. The "Clemsoning" was avoided (and it's dead until further notice), and now it's game on with Florida State.