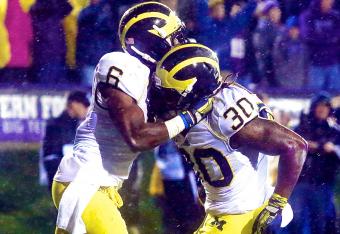 Getty Images
Pipe dream? You betcha. But before we begin putting check marks in the appropriate columns, let's embrace the opposite end of the hypothetical.
If the BCS rankings were based on the ability to send a field goal unit on the field in awkward, frantic fashion, the Michigan Wolverines would be the nation's No. 1 team after Week 12.
There would be no debate over the country's best. In fact, we'd give Michigan the No. 2, No. 3 and No. 4 spots as well. It's our BKS rankings (Bowl Kicking Rankings) and we can do what we want.
Despite the team's glaring holes on offense, the offensive line's frustrating inability to protect the quarterback and the overall underwhelming performance of the team in 2013, the special teams delivered against Northwestern, somehow sending a game that had no business continuing into overtime.