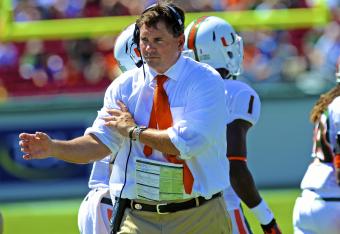 The Miami saga has come to an end with the NCAA releasing an infractions report, which adds only light sanctions to the Hurricanes football team. Following this extended debacle of a case, the NCAA and the University of Miami were able to get it right when it came to the punishment.
In addition to the self-imposed two-year bowl ban, the Miami program also already reduced official visits, contact days and recruiting evaluations in the 2012 and 2013 seasons. The NCAA accepted those penalties, only electing to tack on the obligatory three-year probationary period and the loss of nine scholarships over three seasons, three scholarships a year. It's a relief to Miami, as Tim Reynolds of the Associated Press quotes Miami President Donna Shalala:
When the case first came to light, many were calling for the Death Penalty for the Hurricanes. After all, surely allegations of prostitution, cash gifts and a decadent South Beach lifestyle should park The U for a season or two. Many did not care that the information was obtained through Nevin Shapiro, a convicted felon and questionable source, at best.
Players were suspended for suspected involvement. Ray-Ray Armstrong lost his eligibility because of rumored wrongdoing that scared the university into dismissing him. The 'Canes elected to sit out a bowl game in 2011, then both the ACC Championship Game and a bowl game in 2012. The U was slowly suffering setbacks, all while waiting on the NCAA.