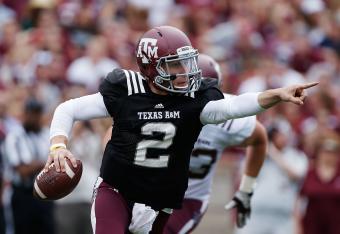 Scott Halleran/Getty Images
Do you hear that? That's the sound of a lumbering herd of NFL scouts returning to civilization after a few weeks of R and R.
With a fresh crop of future NFL players ready to be gauged, the year-long process of football study is underway yet again. For Johnny Manziel—college football's great electrifying chain-mover—this dissection (and predictable doubt to accompany it) will be persistent, regardless of how close he comes to matching impossible expectations.
Think Alabama will be Manziel's biggest obstacle in 2013? Or, perhaps his late November trip to Baton Rouge? Or, if things go exceptionally well, maybe this obstacle will come during the SEC or even BCS Championship Games?
As daunting as these on-field opponents might be, NFL scouts could prove to be his most worthy adversary. Nothing is confirmed that Manziel's second season as starter will be his last, although he's not exactly shying away from this talk either.