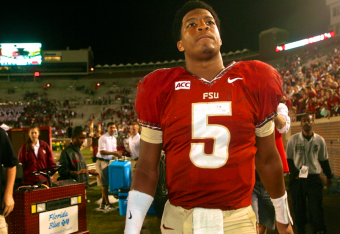 AP Images
There are no winners here.
No one is coming away victorious given the strange an unfortunate circumstances. This is not a time to celebrate or smile now that the legal process has taken its toll, but rather to process it all and come up with a reasonable interpretation of your own.
The term "reasonable" cannot be stressed enough.
The lives of two people will be forever changed, and Jameis Winston—along with the alleged victim, of course—will be impacted greatly despite the announcement that there will be no sexual assault charges filed against the Florida State quarterback. James Cameron of 97.9 ESPN Radio reported the news first, and State Attorney Willie Meggs confirmed the report at a press conference.