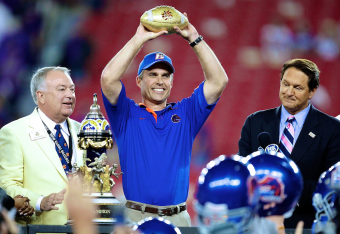 Getty Images
This is a brilliant hire. It's simple, really.
Washington landed the man that many assumed would never leave his now-former post. After turning down offers from major schools over the years—and even drawing significant interest from notable schools earlier this week—Chris Petersen is taking is immense talents to Seattle.
ESPN's Joe Schad first reported on the hire after rumors of interest on both sides began to leak on late Thursday night. Washington confirmed the hire on Friday, and athletic director Scott Woodward discussed just what Petersen's presence will mean.
Petersen's name has come up plenty in recent years. He has been connected to a variety of searches—from UCLA, to USC, to Texas, to Wisconsin—pretty much every major vacancy imaginable. The interest, however, has always only reached a surface level, a point brought on more by media speculation than anything else.