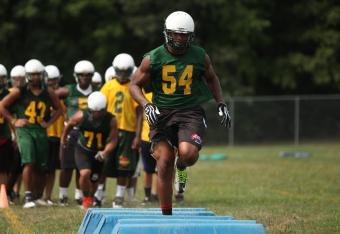 Da'Shawn Hand, the nation's No. 1 recruit (Image Via USA Today)

The state of Virginia is poised to knock the recruiting world off its axis.
With three of the nation's top-10 players in the 2014 class calling Virginia home—Da'Shawn Hand, Andrew Brown and Quin Blanding—geography could soon flex its recruiting muscles.
Whether in-state schools can capitalize on this perk won't be known until next February, but the possibility of a shakeup (even a temporary one) is alive and well.
"Virginia has always produced outstanding football talent, but it is rare for a state other than Florida, Texas or California, to have three elite of the elite-type of prospects," said JC Shurburtt, National Recruiting Director for 247Sports. "But these three, given their lofty comparative positions with other prospects nationally, will be remembered for years."