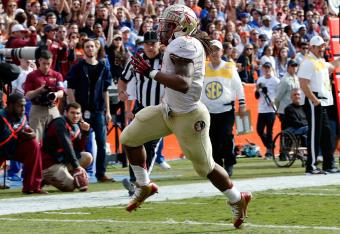 Sam Greenwood/Getty Images
Could the 2013 Florida State Seminoles go down as the most dominant team in the BCS era?
Sure.
Could, of course, is the word to watch here because the Seminoles have some heavy lifting to do. This team takes on the Duke Blue Devils in Charlotte to earn the right to a BCS National Championship Game. Then, with a 13-0 record, Florida State would of course have to win in Pasadena to be in the same clubhouse with the rest of the teams.
There have been nine undefeated BCS Champions, and teams like 2002 Miami and 2005 USC missed out on being back-to-back champions by losing close title games. Dominance starts with going unblemished. Truly dominant teams don't stall in big moments. Truly dominant teams don't have losses to substandard competition. Truly dominant teams show up every Saturday and finish the drill.
Currently, the Seminoles have both the highest points for and the highest averaged margin of victory. Jimbo Fisher's team also is tied with USC for the least amount of opponents ranked when played, although in the final two games the 'Noles will run that total to five, putting them right in the line with the other champions.