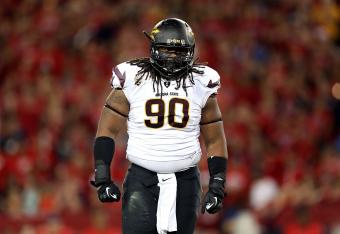 All-American DT Will Sutton is one of many reasons to be excited about the 2013 season
Christian Petersen/Getty Images
For the first time in a while, Todd Graham is staying put. He's not moving his family across the country to a new city for a new job, with another batch of angry fans trailing the plane with pitchforks and torches. Instead, he's remaining at Arizona State, where the future is brighter than it has looked in some time.
In the case of the 2013 season, things could be very bright. Other teams in the Pac-12 will garner headlines and preseason praise, just like they always do. But there's a quiet optimism surrounding a Sun Devils team that will return many key pieces.
Arizona State's 2012 started on a promising note, thanks in large part to a gift from the scheduling gods, although as the competition increased—especially during a monthlong stretch during the heart of the schedule—the losses began to mount. Still, Graham's test drive, which culminated in a blowout victory over Navy in the Kraft Fight Hunger Bowl, was a success given the circumstances.
The term "sleeper" has been beaten to death, although it applies in this case. If Arizona State can stay afloat during a brutal early stretch of its schedule, a breakout season could be on the horizon.