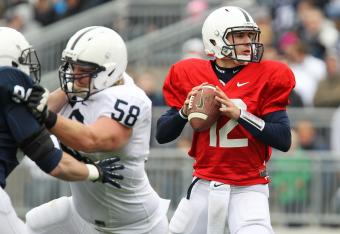 Matthew O'Haren-USA TODAY Sports
The summer of 2012 saw Penn State players like Silas Redd and Rob Bolden left the program to pursue success at other schools, after the sanctions were handed down. Now, after Bill O'Brien worked to galvanize the ship and his players responded, Penn State transfers are a lot more "normal" in the grand scheme of things.
Normal, of course, means kids looking to find a way onto the field after realizing it might not happen for them at their original choice.
Steven Bench, a quarterback at Penn State, elected to transfer after spring and recently, as the Tampa Bay Times reported, picked USF as a landing spot. Which is good for Bench, the former Rivals 3-star recruit, who walks into South Florida with an opportunity to compete for new head coach Willie Taggart.
It is also a good sign for Penn State.