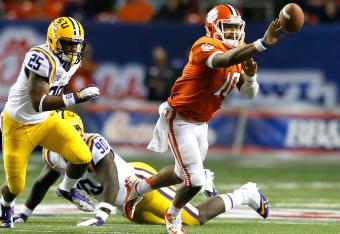 Kevin C. Cox/Getty Images
I know, believe me, I know it has been awhile, folks. I've been busy doing some covert things behind the scenes, but I am finally back on my normal beat, and with a vengeance. Believe me, I'm so happy to be back to doing the mailbag! Thanks to everyone who sent in submissions, here we go people!
Oh and haikus!
I think Finebaum wins
Probably some classic games
And a cooking show
But, seriously, I think Finebaum will be there cornerstone in the afternoons. It is low budget programming, not from a quality standpoint, but from a "it doesn't cost a ton to televise a radio show" standpoint. Stationary cameras, general lighting and go from there. There's a reason CBS, Fox and ESPN all do that already.
I am sure they'll show some of the games from the past, in a myriad of sports, because they have bought up syndication rights and getting show some old school stuff is fun. That also means they will be showing recent replays as a way to pass the time. Look for something similar to the Pac-12's 60 minute games, which is pretty cool.