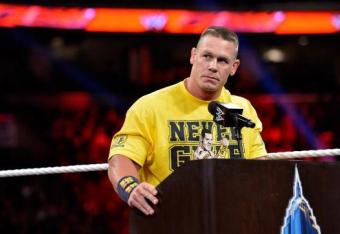 Photo courtesy of WWE.com

WWE fans have been calling for John Cena to turn heel for what feels like years, and the buzz has intensified in the aftermath of Raw as Cena cut a passionate promo on The Rock. As intriguing as a Cena heel turn would be, the WWE simply doesn't have the big guns necessary to pull it off currently.
After two weeks away, The Rock made his Raw return on Monday with the WWE Championship in tow. He and Cena then took part in a question-and-answer session with a panel of five WWE Hall of Famers, including Jerry "The King" Lawler, Booker T, Mick Foley, Dusty Rhodes and Bret Hart. Lawler moderated while the other four asked Cena and The Rock questions to close the show.
Both Cena and The Rock did a great job as they made their feud seem very real and the stakes attached to their match at WrestleMania XXIX were certainly raised. Cena was sure to hammer home how much the loss at WrestleMania XXVIII affected him and he even went so far as to break his usual character while recalling last year's events.
Cena doesn't lose matches often, but when he does he always seems to give due credit regardless of the manner in which the loss occurred. That wasn't the case on Raw as he told The Rock that he didn't really beat him at WrestleMania XXVIII. Cena maintained that he beat himself by making the stupid decision to go for a People's Elbow.