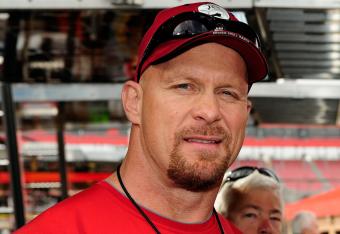 Rusty Jarrett/Getty Images
With The Rock returning to the ring at Survivor Series 2011 and proceeding to have matches at WrestleMania XXVIII and the upcoming WrestleMania XXIX, it is inevitable that fans have begun to wonder about "Stone Cold" Steve Austin's status. Many hope that he considers a return at WrestleMania XXX, but recent reports suggest that he may not be willing to do so.
According to a members-only report at F4WOnline.com (via WrestlingInc.com), people close to Austin don't believe that he will wrestle again. With that said, if he does decide to wrestle another match, then it will likely take place at WrestleMania XXX in New Orleans next year. I can understand why Austin may not want to compete again as he could risk injury and perhaps damage his legacy, but 'Mania could present a huge opportunity.
The match that most fans are clamoring for is a bout between Austin and CM Punk. The two of them have had some run-ins in the past as they interacted during an episode of Raw a couple years ago. Also, they have tweeted at each other and they engaged in an interview segment with Jim Ross regarding WWE '13. On top of that, they have gimmicks that are begging to be put against each other as Austin is a beer-guzzling loner, while Punk is straight edge and believes that he's better than everyone else.
Since The Rock and John Cena are set to headline two consecutive WrestleManias, I have to imagine that the WWE wants to go a different route next year. There has already been some talk about The Rock facing Brock Lesnar at WrestleMania XXX and Cena vs. The Undertaker is a potential matchup as well. That would leave Punk wide open for a match with Austin if he chooses to come back.