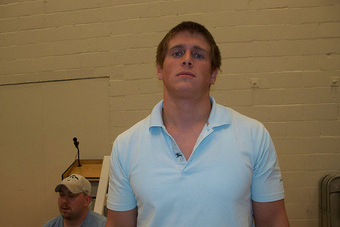 Photo courtesy of CarolinaWrestlingSuperstars.net

Reid Flair, the youngest son of professional wrestling legend Ric Flair, has reportedly passed away at the age of 25, according to F4WOnline.com.
No details have been released regarding the cause of Reid's death, but the loss is obviously a tragedy considering his young age.
Not only is it awful for the Flair family, but the wrestling world has lost a promising up-and-comer as well.
The younger Flair had been pursuing a wrestling career in his own right, as he performed for numerous independent promotions over the past few years. He debuted for All Japan Pro Wrestling last year and began to blaze his own trail through the business after his father's immense success.