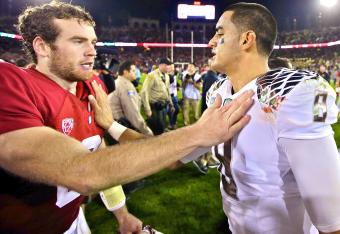 Getty Images
Can you imagine how incredible a 68-team college football playoff would be?
Sure, people may balk at the watering down of the product and the regular season becoming marginalized to mean almost nothing, but watching four of the Top Five teams in the country—Kentucky, Michigan State, Duke and Kansas—battle in an early season hardwood classic on Tuesday had to make fans wonder what college football would be like if teams scheduled games like they weren't so damn afraid to lose.
With 11 minutes left in an epic matchup between Kansas and Duke that saw the Jayhawks pull away in the final minutes, ESPN basketball analyst Dick Vitale put the early season action in perspective.
"This is November 12th. Are you serious? This is November 12th."