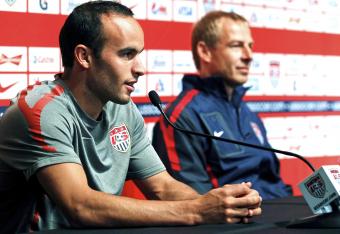 Alex Brandon/AP Images
Jurgen Klinsmann has way too much job security. Clearly Landon Donovan does not.
That's the only way to explain the unexplainable. Klinsmann announced his 23-man team for the World Cup in Brazil on Thursday, and the story is less about the nearly two dozen players who made it than the one who didn't.
Donovan was left off the World Cup roster, meaning he will miss out on his fourth World Cup so Klinsmann can reward 18-year-old Julian Green for spurning Germany to play for the U.S. National Team. For Klinsmann's national team.
This is a power play that is impossible to believe. Hell, I wrote just this week that we should stop pretending Donovan isn't a lock for the trip to Brazil because it would take some enormous Brazucas for Klinsmann to put together a team of 23 without the best player in American history, who has proven he can shine in the bright lights of the World Cup.