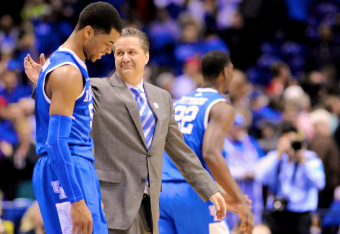 Thomas J. Russo/USA Today
The Kentucky Wildcats were the top-ranked team in the country before one of the players starting Monday night's national championship game even stepped foot on a college basketball court.
There will be some college basketball voters walking around North Texas with a big "told you so" look on their faces tonight. History has a way of revising itself. The incredible coaching of John Calipari this season has something to do with that.
Kentucky was not the best team in the country all year—far from it—but when it matters the most, it sure seems to be playing like it.
Kentucky's run to the Final Four shouldn't be a "told you so" situation for the writers, but it can be for Calipari.