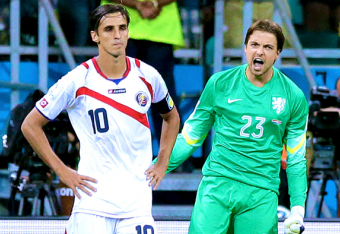 AP Images
For decades, teams have been playing extra time in major competitions like the World Cup in preparation for—one might say in hopes of—the match ending in penalty kicks.
With Costa Rica fighting valiantly for much of regulation against the Netherlands, it looked like the last quarterfinal played in the 2014 World Cup was going to end in a surprisingly fair fight.
And yet, when the match hit the later stages of regulation and flipped into extra time, the pitch completely tilted, favoring the Dutch for most of the additional 30 minutes.
Costa Rica seemed happy to survive the 120 minutes, settling for penalties, having previously won a shootout with Greece in the round of 16.