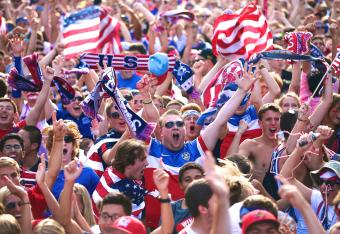 Getty Images
The ratings for the United States World Cup draw with Portugal were announced Monday with record-setting numbers. ESPN boasted that 18.2 million people watched the game Sunday—huge for anything on television, but astronomically so for soccer, even at an event as big as the World Cup.
ESPN's business reporter Darren Rovell noted that the rating for ESPN was higher than the average rating for a regular-season NFL game last season. Sports Media Watch added that the 18.2 million viewers were more than any game of the NBA Finals this year, including the series clincher, which traditionally gets a ratings boost for any sport. (People love trophies.)
The ESPN numbers are flat-out huge, and it speaks to the big-event nature of American sports fans.
The thing is…those numbers aren't the entire audience.