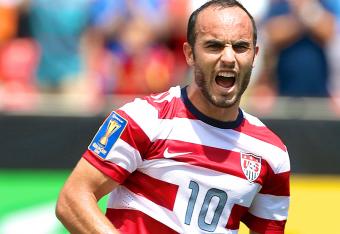 Getty
"I think in the end we're all just trying to do our part to keep building the game."
That's what Landon Donovan told U.S. Soccer as part of a tribute video the organization put together to celebrate the amazing career of the best soccer player to ever represent the red, white and blue.
There's been little debate about that over the years, at least in terms of field players for the United States men's national team. Donovan is the best American to play the beautiful game, but if you look at the roster put together by Jurgen Klinsmann for Donovan's testimonial match on October 10 in Connecticut, this send-off is as much a look to the future as it's become a celebration about the past.
For U.S. Soccer to grow into a new era, it seems only fitting for it to end—and begin—this way.