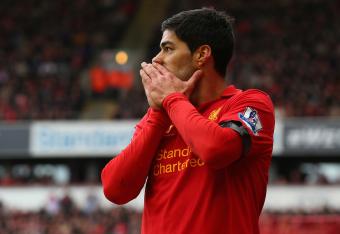 Alex Livesey/Getty Images
The FA has charged Liverpool's Luis Suarez with what the Association calls "violent conduct" after Suarez was seen on tape biting Chelsea defender Branislav Ivanovic in a match on April 21.
Biting.
Suarez has apologized for the chomp, whatever that is worth.
Liverpool came out strongly after the incident with words—manager Brendan Rodgers stated, "There is certainly no one bigger than this football club"­­—but hardly with actions, fining the talented yet foolhardy striker a mere two weeks' wages.
The FA will surely punish Suarez more severely than Liverpool's mild slap on the wallet, already indicating his actions warrant something beyond a three-match ban, with a hearing scheduled later this week. Per TheFa.com: