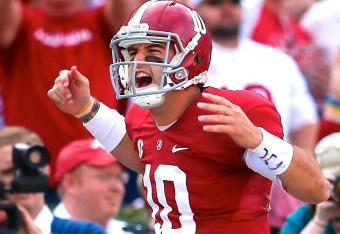 USA Today
The Heisman Trophy finalists were announced on Monday, and the players invited to the ceremony in New York on Saturday are a star-studded list of college football's best, including Jameis Winston of Florida State and five other guys who have no chance to win.
For weeks, the trophy seemed to be Winston's to lose, and the only way he could have possibly lost it was if his recent legal issues kept him off the field. Morality—sorry, they use the word integrity—is apparently a big part of the Heisman Trophy process. (More on that in a bit.)
Winston was publicly cleared of all impropriety before torching ACC foe Duke in the conference title game, making the road to the Downtown Athletic Club an expectedly fruitful one.
The other finalists—Jordan Lynch of Northern Illinois, Tre Mason of Auburn, AJ McCarron of Alabama, Andre Williams of Boston College and defending champion Johnny Manziel of Texas A&M—will take the trip to New York City for ostensibly nothing but a few handshakes, bus tours and a free dinner or two.