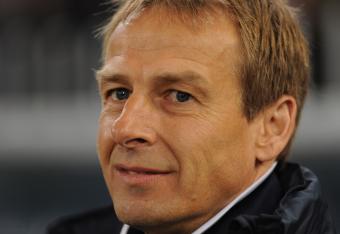 How much pressure is on Jurgen Klinsmann heading into these two WC Qualifiers
Valerio Pennicino/Getty Images
ESPN will be televising the next two U.S. Soccer World Cup qualifying matches as the team plays host to Costa Rica on Friday night (9:45 p.m. ET, ESPN) before traveling to Mexico on Tuesday (10:30 p.m. ET, ESPN). Ian Darke and Taylor Twellman will have the call for both matches.
I had the opportunity to chat with Darke in advance this vital set of games and we talked about everything from the current state of U.S. Soccer to Jurgen Klinsmann's roster predicament to how Darke calls a match, even during the English Premier League season, knowing he has an exclusively American audience.
First, we touched on the biggest point of panic for U.S. fans, which must be the makeshift back line Klinsmann has selected for the two matches. (Throughout the article, Darke's quotes will be in block to make it easier to distinguish his comments from mine.) I asked how concerned we should be with the relative inexperience among the back line.
Speaking of Carlos Bocanegra, how has he fallen out of favor so quickly with Klinsmann, going from the captain of the squad to not even making it to camp with a depleted defense that could use veteran leadership?