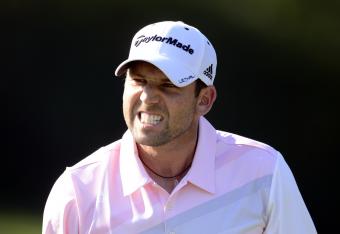 Brad Barr-USA TODAY Sports
Tiger Woods walked up to the 17th tee at the TPC at Sawgrass on Sunday, tied for the lead at The Players Championship with Sergio Garcia after both birdied the previous hole. He placed his ball on the tee and calmly smacked it into the heart of the island green, safe and dry.
Woods two-putted the 17th and the 18th to win his second Players Championship—the 78th victory in his 300th career start. It was the fourth victory in seven starts this season for Woods, who is clearly the favorite heading into the U.S. Open.
Booooooring.
When Garcia stepped up to the 17th tee in the final pairing, tied for the lead with two holes to play, something clicked in his brain. Something only Sergio might think to do in that situation: He decided to go at the pin.
Drink.
That's where Garcia's ball landed: in the drink. Needing to stick his re-tee lest he fall even further back from Woods heading into the final hole of the tournament, Garcia had no choice but to aim for the pin again.