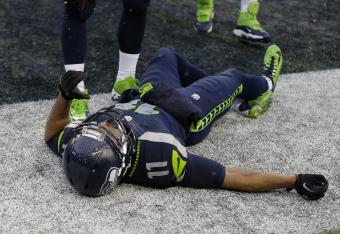 Ted S. Warren/Associated Press
Someone should take Percy Harvin's helmet away…forever. Someone should snap a photo of the Seattle wide receiver and print it 32 times to post outside every NFL stadium in America.
DO. NOT. ADMIT. THIS. MAN.
Harvin was removed twice from the Seahawks' NFC divisional round victory over New Orleans after taking a couple of wallops to the head, the second of which has put his availability for the NFC Championship Game in jeopardy.
I feel like at this point in his injury-riddled career, removing Harvin from the game—not a game, but the game—may be for his own good.
Harvin missed almost the entire regular season for Seattle after hip surgery, playing in just one game in November before eventually making it back for the playoffs. He was traded to the Seahawks in the offseason after playing in just nine games for Minnesota in 2012, as an ankle injury forced the Vikings to put him on injured reserve.