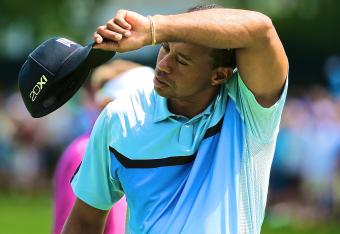 For much of his first round at the 2013 PGA Championship, Tiger Woods didn't play poorly. In fact, if you only saw Woods off the tee or on the greens, there were times where he looked downright great.
After carding a two-under 33 on his first nine—the back nine at Oak Hill as Woods began off the 10th tee on Thursday—the top-ranked golfer in the world struggled coming home to finish one over par, six strokes behind the leader at the time he finished his round.
After his double-bogey finish at the ninth hole, Woods "politely declined" to speak on camera with the television crew, but did talk with the assembled media following his round.
As Steve DiMeglio of USA Today noted, on his first nine Woods saved par from eight, four, three, four and five feet after missing the green in regulation, so the notion of Woods leaving the ball right where he wanted it may have been a bit rose colored.