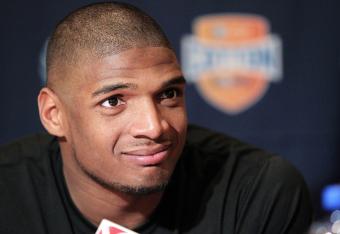 Brandon Wade/AP Images
Michael Sam is gay. He's known this for quite some time. He just didn't tell you.
Sam said in his many interviews released Sunday night with the New York Times, ESPN and Sports Illustrated that he wasn't keeping the fact he is gay a secret. He told SI's Jon Wertheim, "if I was walking down the street and someone asked me if I was gay, I would've told them I was gay." Not only did most of his friends and family know, but his entire Missouri team did.
So why would it be a distraction now that the rest of us know?
It didn't seem to be much of a distraction for his college team. You know the Missouri Tigers, right? The team that made it to the SEC title game, finishing the season 12-2, ranked fifth in the nation? Yeah, that team. Sam was their best defensive player.