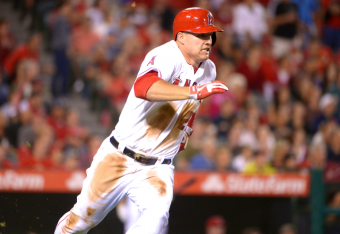 Mike Trout is one of the bright young stars in baseball. As a fellow South Jersey native, I'm not only happy for the kid's early success, I find myself rooting for him to succeed. It came with great joy and civic pride, then, when I saw Trout hit for the cycle in the Los Angeles Angels' 12-0 rout of the Seattle Mariners on Tuesday.
I immediately clicked the video on MLB.com to see the highlights and share in the excitement.
Well now, Trout sure looked out on that infield single, didn't he?
Trout's first hit of the four-hit night was a bang-bang play at first base in the third inning. While he may have looked safe at live speed, the replay sure as heck looked like Aaron Harang got his foot on the bag before Trout.