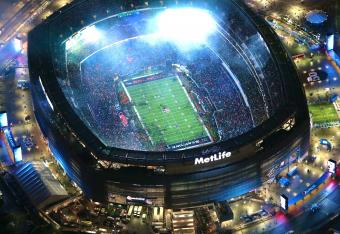 John Moore/Getty Images
Roger Goodell must have made a deal with the devil.
After years—I mean years—of concern about the first outdoor Super Bowl in a cold-weather city being socked with disastrous conditions, the temperature for kickoff on Sunday was downright balmy.
Players warmed up in shorts. Some fans didn't even bother bringing winter coats. The media actually complained the auxiliary press box was too hot for them, because the NFL put in so many heat lamps to account for the cold that the place turned into an incubator when the temperatures ended up being so mild.
It rained a little bit in the second half, which was a friendly reminder that conditions could have been worse, but all things considered—and the NFL certainly considered all things, including the potential of moving the Super Bowl to another day this week if the weather was too bad to play the game on Sunday—the day was perfect.