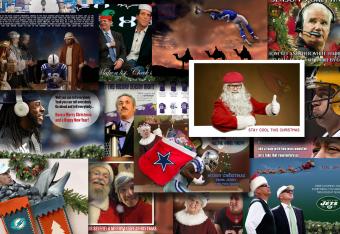 B/R Illustration
Let's be honest: It has been a tough year for the NFL. Well, attendance has been good and viewership is at an all-time high, but all the off-the-field stuff has really put a damper on...on...something. It's put a damper on something.
So how about some NFL-themed holiday cheer.
Each year we tirelessly scour the country for every NFL team's holiday card. These are without a doubt 100,000 percent real cards and not Photoshop creations I spent the better part of a week making. Real. Totally, good-tidingly real.
(For a gander at last year's cards, go here. Oh, and here are 2012's. Ho, ho, ho.)