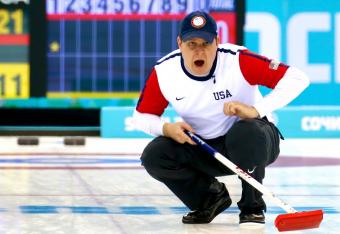 Getty Images
We've come to bury United States curling, not to praise it.
Truth be told, there isn't much to praise about the combined effort for the American men's and women's curling teams during the 2014 Sochi Olympics. Of the 18 combined games played, the United States won just three.
The men's team, led by skip John Shuster for a second straight Olympics, won just two of their nine matches. The women's team, led by skip Erika Brown and vice skip Debbie McCormick, who led the 2010 squad in Vancouver, won just one match in Sochi, being outscored 77-40 in the tournament.
Shuster spoke with NBC's Trenni Kusnierek after the team's final game in Sochi and was asked if he is disappointed to return to the Winter Games and put up such a poor result.