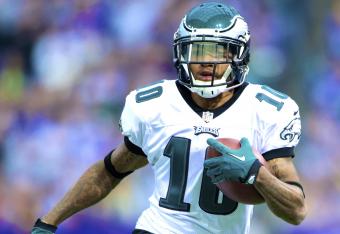 Getty Images
If you followed the final days of DeSean Jackson with the Eagles closely enough—and being a sports fan in the Philadelphia area right now, it would have been impossible not to—his release on Friday should have come as no surprise.
The reasons why certainly are.
Jackson was cut loose after weeks of speculation, rumor and unending debate about his on-field contributions and how they would mesh moving forward in the second year of Chip Kelly's tenure. On field. Read that right.
There were hours upon hours of debate about whether Jackson—a 1,300-yard receiver last season—was the best fit for Kelly's system. When Riley Cooper and Jeremy Maclin were re-signed, the talk was almost all about Jackson.
When Darren Sproles was brought in from the New Orleans Saints, the talk was certainly about Jackson.