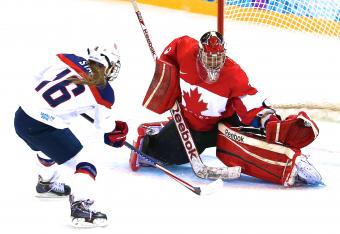 Getty Images
I got into a fight with a Canadian today. Well, not a fight so much as a Twitter spat over the Stanley Cup being held hostage in the Canada house during the Sochi Olympics.
The Stanley Cup, for you hockey-illiterate Americans, is the giant silver trophy given annually to the NHL champion, something a Canadian team has not been since 1993.
Two decades have passed since a team from north of the border last won the Stanley Cup, yet someone thought it would be an inspiration to the Canadian contingent to bring the cup all the way over to Russia to remind people that hockey belongs to them.
There was much more of that kind of back and forth, with a few other Canucks getting into the mix as well. The primary retort to the Stanley Cup comment is that more Canadians have won the trophy than Americans, even though all of the Cup-winning teams play their home games in America. American teams win all the titles, but Canadian players make up the best talent on those teams.