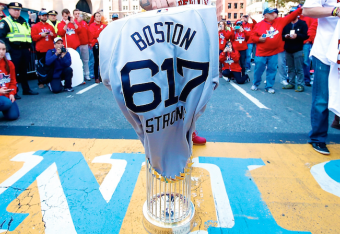 Jared Wickerham/Getty Images
In some ways, it's hard to believe it has already been a year since a series of bombs went off at the Boston Marathon. In other ways, specifically for those most closely affected by the impact of the explosions on Boylston Street in Boston, Mass., that occurred just before three in the afternoon on April 15, 2013, the year could not have felt longer.
The truth is, when my editor came to me and asked me to write about the one-year anniversary of such a terrible time in our country's recent history, I didn't want to write about it any more than I assume many of you wanted to read about it.
Commemorations are never easy, and while time offers many of us perspective on things we find impossible for our minds to properly process at the time, this one—and others like this that lead back to the events that took place on an early autumn morning in 2001— still seems particularly painful to remember.
It feels hard to believe it has been a year since two 20-something brothers decided to attack a major United States city, putting our entire country on notice that no one is ever truly safe, especially at a major public event. That feeling is as terrifying today as it was a year ago.