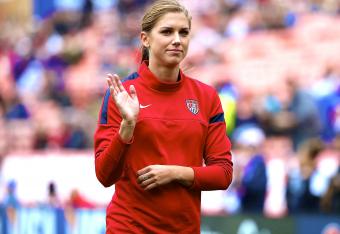 Getty Images
Alex Morgan is stealing the World Cup trophy for America! Or, more appropriately stated, Morgan—one of the best women's soccer players on the planet—is leading a group of celebrities and stars of the game, along with Coca-Cola, to bring the World Cup trophy to America as part of a multi-national tour to Brazil this summer.
I spoke with Morgan this week about the World Cup tour as well as her thoughts on the current state of the game—for both the men and women's United States national teams—heading into a very important time for soccer in this country.
Morgan and I also discussed how hard it has been for her to miss time due to a prolonged ankle injury, how her recovery is going both physically and emotionally and what advice she has for some of the stars of the men's game that may miss the World Cup due to injury.
Additionally, Morgan shared some thoughts about the future of the game in America, and we had a laugh at the insanity of seven-year olds playing travel soccer. Morgan didn't begin playing travel and select soccer until she was a teenager, and didn't focus just on soccer until high school, which makes me wonder if my six-year old playing three days a week is a great sign for the future of the sport in this country, or absolutely insane.