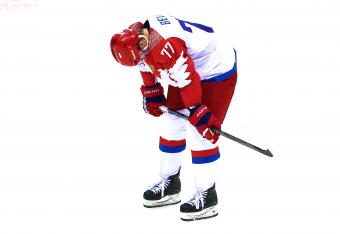 Getty Images
What time do the closing ceremonies begin?
The Olympics, at least in terms of Russia's longstanding dream of winning a gold medal in men's hockey, are over. Russia lost, 3-1, to Finland in the quarterfinals on home ice, thereby ending both any chance at Olympic glory and every hope of finishing the Sochi Olympics on a high note.
In a Winter Games full of small Russian disasters, this one is huge.
Some even think the men's hockey defeat is one of the biggest Olympic disasters in Russia's history. During the second intermission of Wednesday's quarterfinal, American commentator Jeremy Roenick said that a loss to Finland at this stage of the event would be "the biggest failure in Olympic history I think for Russia."