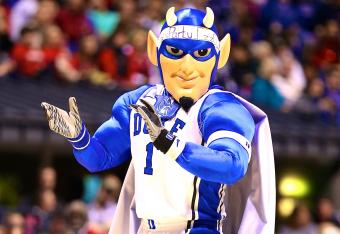 Getty Images
For two seasons I put together an ultimate NCAA Tournament Bracket Bracket, where I took all the great bracket ideas around the Internet (and a few I made up myself) and put together a bracket of all those brackets. It was a lot of fun, and it made for great fodder for which are the best brackets to fill out. (Note: the actual bracket always wins, but '80s cartoons is a strong contender.)
What I didn't realize when putting together my bracket bracket is just how interested people would be in one particular idea: Which mascots would win in a fight?
Seriously, every radio interview I did during the tournament wanted to debate if a bruin could beat a gator or how to rank a demon and a hurricane—spoiler alert: We eventually agreed that supernatural beings trump natural disasters—which got me thinking that I could actually do this entire bracket with the 2014 NCAA tournament field and people would probably love it.
A few days after we planned to run a mascot bracket this year, this happened.