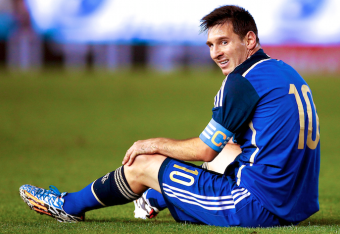 Natacha Pisarenko/AP Images
Go to any shoe store or apparel website this summer, and you will almost literally be kicked in the head with options for World Cup-inspired footwear.
By my count, the big three international football manufacturers—Adidas, Nike and Puma—are offering more than 150 combined options for soccer cleats, flats and other footy footwear this summer.
As soon as you pick out your favorite pair of shoes from the Samba Pack or the Magista Collection, out come 15 more with "battle designs" or "snake venom" used as sewing thread or whatever crazy gimmick the companies can employ to get us to pay attention, buy more stuff and outclass our friends on the pitch.
It's no longer just Adidas and Nike either. Puma is going so rogue this summer that it is giving all its athletes two different-color shoes—one pink and one blue—to get people like me to pay more attention to those wearing Pumas. (Job well done, public relations cats.)