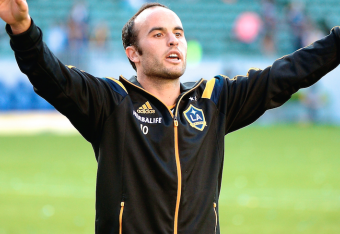 Harry How/Getty Images
When asked how his conversation went with Landon Donovan after telling the American soccer legend he was not a member of the 23-man roster for the World Cup in Brazil, U.S. soccer manager Jurgen Klinsmann stressed how professional Donovan was in handling the news.
One has to wonder how Klinsmann feels now.
In the wake of Klinsmann's decision, Donovan posted a message on Facebook thanking the American soccer public for its near-unwavering support. Rather than leave it at that and go back to the Los Angeles Galaxy with his tail between his aging legs, Donovan went on the offensive, telling reporters in L.A. just how wrong he felt the decision was, via MLSSoccer.com:
Klinsmann held a press conference Friday to discuss the 23 players he chose, and it turned into a session exclusively about the most notable one he omitted. He refused to go into specifics as to why he left Donovan home, saying repeatedly that "at this moment we feel that the other players—without naming any of those guys­—are a tiny little bit ahead of him," as reported on MLSSoccer.com.