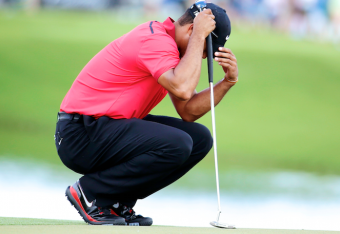 AP Images
At this point in his career, with another major injury derailing hopes of becoming the winningest golfer in major championship history, it feels like Tiger Woods needs Augusta more than Augusta needs him.
That wasn't true about any Masters tournament since 1997, when Woods burst onto the major championship scene, but this season—which has seen Woods struggle through the early part of the PGA Tour schedule with a devastatingly ailing back—the Masters doesn't need Woods this year. Not like this.
The Masters doesn't need two rounds of Tiger slogging up and down the bounding fairways of Augusta National, grabbing his back after every wayward shot while using his short irons more as a cane than a means to get out of the second cut.
The Masters doesn't need Tiger showing up just to withdraw after a few holes because the pain in his back was too severe to continue.