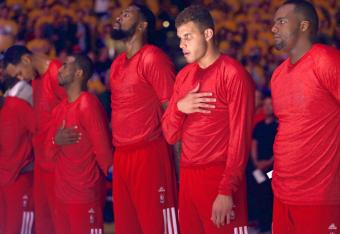 AP Images
Sometimes in the wake of untoward events, it's the smallest gestures that make the biggest difference. Other times, it seems, a grand gesture may be necessary. Yes, this is about racism. No, this isn't just about getting Donald Sterling out of the NBA.
This is an interesting time in all sports to look at the impact of racism, from the NBA issues to recurring instances in the world of international football to lingering thoughts about social change in both Major League Baseball and the National Football League. So, no, this isn't just about Sterling's recent comments, but those comments can serve as a catalyst for a much bigger conversation, and afford all of us in sports the opportunity to reflect and react.
It means a lot that people, such as LeBron James and Michael Jordan, have publicly admonished the comments reportedly made by Sterling about not wanting his then-girlfriend to bring black people to Los Angeles Clippers games. The league needs its leaders—past and present—to be united against any form of hatred and bigotry, especially when it comes from one of its owners.
Magic Johnson saying he will never go to a Clippers game as long as Sterling is the owner means a lot too. The most important basketball figure in Los Angeles in the last 40 years publicly denouncing Sterling is a very big deal.