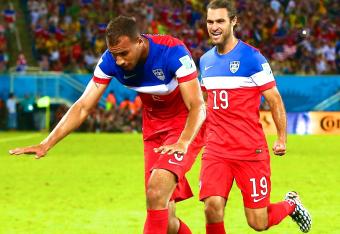 Mark J. Rebllas/USA Today
In the closing moments of the thrilling, heart-pumping and gut-wrenching 2-1 victory over Ghana, Ian Darke of ESPN put the performance of the United States ever-so eloquently.
"There are some heroes out there," Darke stated, "in red shirts tonight."
Indeed there were heroes, some as unlikely as one might possibly imagine.
John Brooks, installed at halftime by Jurgen Klinsmann after an injury to starting center back Matt Besler necessitated the change, scored the game-winning goal off a set-piece header in the 86th minute, helping the United States survive an impossible test put forth by Ghana, the elements and the gods of the game.