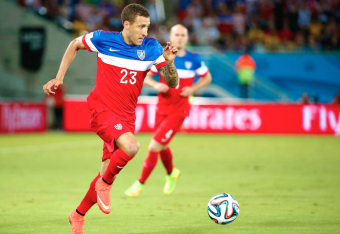 Winslow Townson/USA Today
"Ronaldo plus 10." That's the common knock on the Portuguese side in major competitions, and it's part of the reason why the country that boasts the best player on the planet over the last two years has never been seen as a legitimate contender to win the 2014 World Cup.
One game in, and suddenly a loss in either of the next two matches could see Portugal fail to even make the knockout round. Cristiano Ronaldo is going to do everything in his power to make sure that does not happen, and it's up to the United States to find a way to stop him. (If you thought watching the U.S. stop Ghana was gut-wrenching, just wait for Sunday.)
In truth, Portugal is much more than just Ronaldo, but with the suspension of Pepe after a mindless headbutt on Thomas Mueller and the injuries to Fabio Coentrao and Hugo Almeida, they are much less than they should be heading into a World Cup matchup with the United States. Having said that, Ronaldo plus any 10 still has Ronaldo.
"For us it's a great start, a very difficult start against a great Ghana team and now we have to work harder to show Portugal who we are," Jurgen Klinsmann told the media after his first World Cup win as U.S. soccer manager. "This is a very dangerous game, more dangerous than before because you get that 4-0 result from Germany, now you're going to come into Manaus pretty angry.