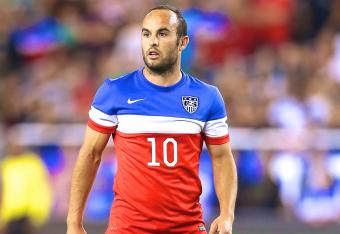 Getty Images
Landon Donovan is widely recognized as the greatest soccer player in American history, and while the 32-year-old is decidedly past his prime at this stage of his illustrious international career, the ruse being put on by national team coach Jurgen Klinsmann, and the game Donovan is being forced to play because of it, is getting a bit ridiculous.
Donovan will be playing in Brazil. Stop suggesting otherwise.
This dance began in early 2013 when a burned-out Donovan decided to take some time off in an effort to recharge his depleted batteries. At the time, Donovan debated retiring from MLS and questioned whether or not he still had the passion to play domestic or international soccer at the high level he was accustomed to playing.
The timing of Donovan's announcement was curious to say the least, as the United States men's soccer team was in the middle stages of qualifying for the World Cup, a campaign for which Donovan would be counted on heavily. Or so we thought.