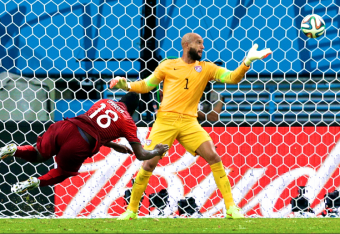 AP Images
"Sickening."
That's how Taylor Twellman and Ian Darke of ESPN described how the United States had three points ripped away in the fifth minute of stoppage time by Portugal and settled for a 2-2 draw in the humid desert city of Manaus on Sunday.
For 94 minutes and 45 seconds the United States outplayed, out-thought and outworked Portugal. It looked like the Americans had outscored their opponent, too.
Jurgen Klinsmann called it unfortunate. Michael Bradley said it was a disappointment that they didn't finish the job.
"That's soccer," Bradley told ESPN's Jeremy Schaap after the match. "It can be a cruel game sometimes."