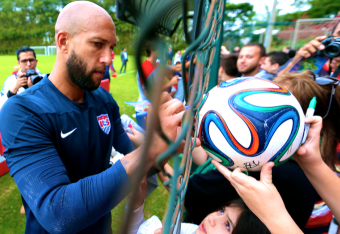 Kevin C. Cox/Getty Images
When asked about the inexperience of the U.S. men's national soccer team and how it could be the defining story of the 2014 World Cup for his side, Tim Howard tried to spin it into a positive.
"Experience is a big thing," the U.S. goalkeeper told a small group of reporters after the Turkey friendly. "Experience also has baggage. So we don't have that baggage."
Only they do. At least, some of them do. There has been so much made about the U.S. national team's lack of experience and how it will work against it in Brazil that many of us—I am as guilty as anyone on this front—have brushed aside the overwhelming experience the team does have.
Howard just collected his 100th international cap in the buildup to Brazil, making him the third player on this roster with triple-digit appearances for the national team, joining Clint Dempsey and DaMarcus Beasley in that esteemed class.