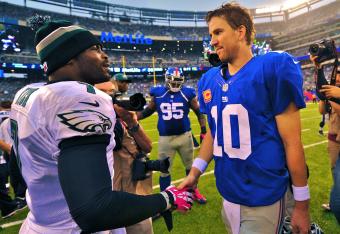 After Denver's narrow escape in Dallas, Kansas City's decisive road win at Tennessee and the Raiders' late-night romp of the Chargers on Sunday, it's abundantly clear that while we still may disagree on the best team in the NFL, we sure as heck know the best division, top to bottom.
Despite a valiant effort from the Dallas Cowboys to knock the Broncos down from the ranks of the unbeaten on Sunday, it's pretty clear which division is the worst as well.
The AFC West is a combined 14-6 (.700) through five weeks of the NFL season, 12-4 (.750) when not factoring games within the division. The NFC East, by comparison, is 5-14 (.263), with a less-than-stellar mark of 2-11 (.154) outside the division.
How bad has the NFC East been so far this season? The Eagles and Cowboys are leading the NFC East with identical records of 2-3—Philly holds the current tiebreaker with a 2-0 division record—the same record as the worst teams in three other divisions.