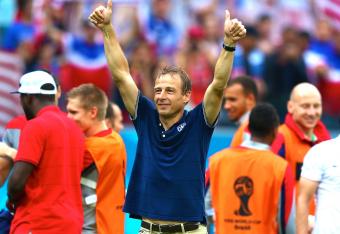 Michael Steele/Getty Images
In his first press conference after landing in Brazil, Jurgen Klinsmann refused to walk back his then-infamous comments about the United States having no chance to win the World Cup, saying instead that his team only needed to worry about getting out of the group.
"Then," Klinsmann said, "the sky is the limit."
Welcome to liftoff.
"It's huge," Klinsmann said to ESPN's Jeremy Schaap after the 1-0 loss to Germany on Thursday in rain-soaked Recife. "It's huge for us getting out of this group. Everybody said, 'You have no chance.' We took that chance and we move on. And now, now we really want to prove a point."
The first point Klinsmann should want his team to prove is that they can play a better brand of soccer than they did in the group stage. Through three matches, there is no question the United States deserved to get out of Group G, but doing so wasn't exactly pretty. It surely wasn't the style of play Klinsmann wants to see in the next round.