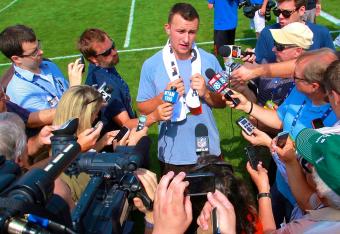 AP Images
Johnny Manziel had his photo taken in a bathroom. He had a $20 bill in his hand. It was being rolled. Now the world is coming to an end.
This is the life of any NFL celebrity. For Manziel, it seems even bigger than that.
Manziel has been a celebrity since he was a tween. The kid was a star athlete from a rich family in the heart of a country that makes celebrities out of far less. At Texas A&M, as the legend of Johnny Football grew and grew, from the trophy ceremonies to the "money" gestures to the repeated reports of impropriety, Manziel seemed to act like it was all part of a big elaborate game for him.
In life, the one who ends up with the most toys wins, and dammit if Manziel doesn't have a huge head start over everyone else.