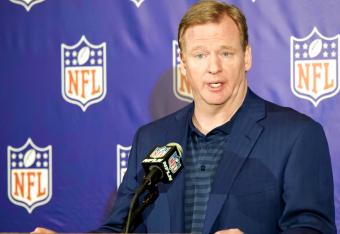 USA Today
Roger Goodell needs a win. Perhaps the commissioner of the most powerful sports monopoly this side of the Atlantic can stand outside his Park Avenue, Manhattan office for a few hours and help little old ladies cross the street.
For a league that can seemingly do no wrong in terms of fan interest and popularity in America, the NFL can't seem to do much right in terms of relating to those fans.
The only public relations spin the NFL seems to have is, "Hey, look—football," and hope the fans of the game—and the media covering it—get stuck two-deep, if you will, inside the machinations of an actual game day so that it's impossible to remember how horribly this offseason has gone.
The logic is so simple, it usually works.