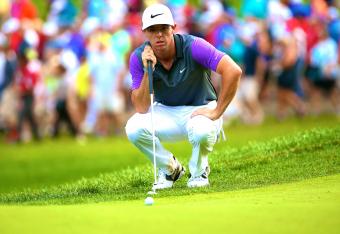 Andy Lyons/Getty Images
Tom Watson had to be watching the final round of the 2014 PGA Championship with a wry smile on his face and a sinking feeling in his heart.
The U.S. Ryder Cup captain witnessed the best player on the planet—for the first time since the late 1990s, decidedly not an American—win his third consecutive tournament this season, including two major championships, while a host of top American players could do little down the back nine but hang on and hope for a mistake that never came.
Rory McIlroy is now fully formed—David Feherty called him a "baby-faced assassin" during his back-nine 32 on Sunday—winning the final two majors of the year, lapping the field at the British and coming back from a slow start, by his standards, to pass an all-star collection of golfers at the PGA on Sunday.
For a while on Sunday it looked like McIlroy was indeed human, losing his advantage over the field early in his final round—his three-stroke lead over runner-up Phil Mickelson had long since disappeared by the turn—before putting on the kind of all-world display we've now grown accustomed to seeing from the kid. It was great drama, even if it did leave Watson and the Americans with a lingering belief that McIlroy—and with him the Europeans—seem entirely unbeatable this year.