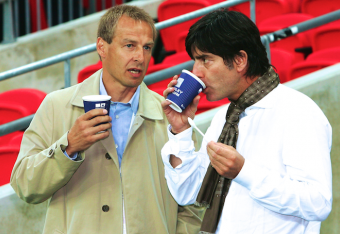 Getty Images
"Hello, is Jogi there? It's Jurgen. I'd like to see if he wants to go to the park to kick the ball around for a bit...about 90 minutes or so. Tell him there's no need to bring a goal. We won't be trying to score today."
When the World Cup groups were announced and the United States was placed with Ghana, Portugal and Germany, the immediate thought in trying to determine the best way out of the alleged Group of Death was for the U.S. to beat World Cup rival Ghana, earn a draw against Portugal and hope that those results were enough to get out of the group stage without needing a result against Germany.
What many—myself included—joked about at the time was that if the United States and Germany both found themselves needing a point to advance after two matches, nothing would be better than a friendly kick in the park.
Ninety minutes, no goals. If there were ever a scenario for which a conspiracy theory could be made, it would have to be this.