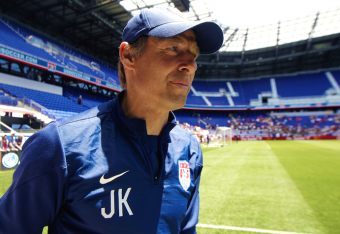 AP Images
Michael Wilbon and Tony Kornheiser are two of the most important cogs in the vast ESPN machine. If it weren't for the success of Pardon the Interruption—ESPN's signature debate show that has truly been responsible for a shift in the way sports are covered on television—a lot of us wouldn't be doing what we are doing.
I, personally, may not be where I am were it not for the help and direction from Kornheiser and Wilbon. So I say this with all due respect and decorum.
Wilbon needs to get the hell out of here. If he was serious with his ridiculously jingoistic rant about Jurgen Klinsmann on PTI on Thursday, Wilbon needs to get out of here with that nonsense:
The full quote (via 101 Great Goals) can be heard at the 10-minute mark of yesterday's show.